IPL 2021 | We will dissect what happened in last four overs, says KKR captain Morgan
Kolkata Knight Riders almost committed harakiri in what seemed like an easy run chase against Delhi Capitals in the IPL Qualifier two on Wednesday and captain Eoin Morgan said a proper postmortem of the last four overs will be done later.
Chasing 136 to win, KKR were cruising at 123 for 1 in 15.5 overs but the match took an incredibly dramatic turn when they lost five wickets for seven runs, with four batters getting out for nought.
It was Rahul Tripathi, who eventually saved the team the blushes with a penultimate ball six, which sealed KKR a place in the final against Chennai Super Kings.
"Should've been a lot easier after the start we got. The openers gave us a great platform. We will dissect what happened in the last four overs," Morgan said during the post-match presentation.
"Dew came in and all, but hey, we have won and we are in the finals. We are delighted to get over the line. Would've loved to win convincingly but Capitals are a very good side.
"Six off two, the odds were probably in favour of the bowling side, but Rahul Tripathi has done superbly well for us." DC captain Rishabh Pant was left stunned by the turn of events after his team managed to take the game to the last over only to fall short in the end.
"I don't have words to express at the moment, can't tell anything," he said.
"We just kept believing, tried to stay in the game as long as possible. The bowlers nearly pulled it back, but it's unfortunate that it didn't go our way." He credited the opposition bowlers for making it difficult to score runs.
"They bowled very well in the middle-overs, we got stuck and couldn't rotate strike," Pant said.
"Delhi Capitals are known to be positive and hopefully we'll come back better next season." KKR opener Venkatesh Iyer, who was adjudged the Man of the Match for his 41-ball 55, said he played freely and didn't try to restrict himself.
"I think in the past couple of games, I have been trying to restrict myself a bit as I wanted to stay till the end. But then I thought it is not me. I was losing out on the present trying to be a bit conservative," he said.
"(Opening partner Shubman) Gill is an extremely wonderful strokeplayer. My entire focus is on the final now." On his match-winning six, Tripathi said: "It feels great. The win was very important. One or two tough overs, and it would go so deep we never thought.
"The 18th over was a great over by Rabada. I had to just connect one, and luckily I connected today, so I am very happy.
"It was difficult once you go in. Straightaway to get those boundaries was difficult. The ball was keeping a little low. After the first phase, we were a little down. We were always looking for positive options."
India-Pakistan will have a great match on 24 October, Team India's complete schedule in T20 World Cup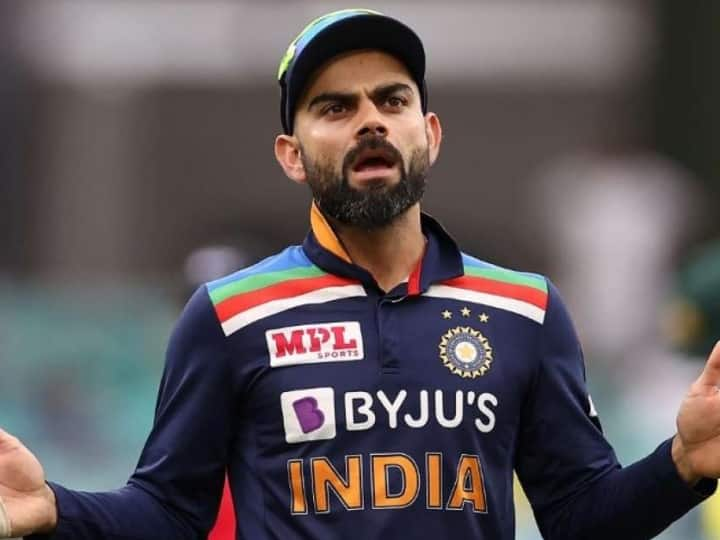 T20 World Cup 2021, Team India Schedule: T20 World Cup 2021 will start in UAE and Oman starting today. Top 8 teams from the world including India have already qualified for Super 12 based on ranking. During the decision four other teams will start today in the qualifying round. (Qualifying Round). Under the captaincy of Virat Kohli, Team India will play their first match against Pakistan in this Maha Kumbh of cricket. This match will be played on October 24 at Dubai International Cricket Stadium from 7.30pm onwards.
Kohli has announced to leave Team India captaincy in T20 after this World Cup. Not only would he like to start with a win against Pakistan in his last T20 World Cup as captain, but he would also like to win this tournament to end his captaincy era in T20.
tournament groupIndia is at -2
Great 12 two different groups (Group 1 And Group 2) will play in. Six teams were given a place in each group.. India and Pakistan both got the group from this World Cup. 2 put in. In addition to these two teams, this group also includes teams from New Zealand and Afghanistan.. After the qualifying round, the winning team of Group B and the runner-up of Group A–a superior team will also join. group 1 in the Caribbeanpalm Englandpalm Includes Australia and South Africa.
After the qualifying round, the winner of Group A and the runner-up of Group B
–
a superior team will join
.
23 group in October 1 of the match between Australia and South Africa in Great 12 the meetings will begin. There you go 24 Group between Team India and Pakistan in October 2 will play the first match of. Great 12 Last match of India and runner-up of Group A in the qualifying round–will play between a top team.
Team India's squad for the T20 World Cup Virat Kohli (captain), Rohit Sharma (sub–captain), KL Rahulpalm Suryakumar Yadavpalm Rishabh Pant (doorman), Ishaan Kishanpalm Hardik Pandyapalm Ravindra Jadejapalm Rahul Chaharpalm Ravichandran Ashwinpalm Shardul Thakurpalm Varun Chakrabortypalm Jasprit Bumrahpalm Bhuvneshwar Kumar and Mohammed Shami
Tournament In Cheap NS schedule
24 October

:

India v. Pakistan

31 October

:

India v. Pakistan

3 November

:

India v. Afghanistan

5 November

:

India vs. Qualifiers

(

The winning team of Group B in the qualifying round

)

8 November

:

India vs. Qualifiers

(

Group A runners-up in a qualifying round

–

up team

)
semifinal And Fine NS schedule
10 November

:

first semifinal

11 November

:

second semifinal

14

November

:

Fine

15 November

:

reserve day for final
read also
World Cup T20 2021: Kohli does not stress about the form of Bhuvneshwar Kumar, said his experience is invaluable
T20 World Cup 2021: From today there will be an international moderation in cricket T20, two matches will be played in the Qualifying Round
Kohli is not tense about the form of Bhuvneshwar Kumar, said his valuable experience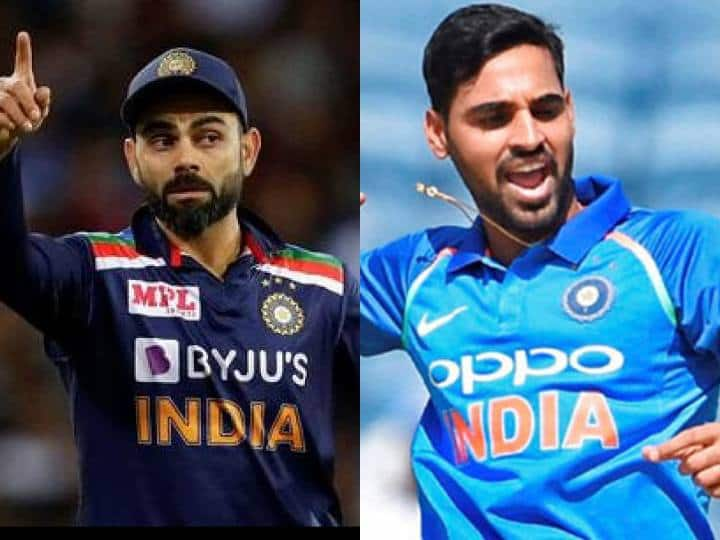 Virat Kohli on Bhuvneshwar Kumar: Teo20 world championship (T20 World Cup) for an Indian team (Cheap Team) Fast bowler Bhuvneshwar Kumar included in the squad (Bhuvneshwar Kumar) Exhausted from some time now. IPL this year for them 2021 (IPL 2021) This season has also been very bad. Although the captain of the equipment Virat Kohli (Virat Kohli) not t20 Before the start of the World Cup, all questions about the form of Bhuvneshwar Kumar were set aside.. Kohli said he is not under any strain on the form of Bhuvneshwar. Also according to Kohli20 Bhuvneshwar's experience in the World Cup can be very important for the team.
Kohli said on Saturday, "I am not at all worried about the shape of Bhuvneshwar. Their economic exchange rate in recent years has been very good.. as well as t20 His experience in times of pressure in a big tournament like the World Cup can be very useful for the team.. IPL I also played our team against Sunrisers Hyderabad. RCB certainly saw the match of. Bhuvneshwar brilliantly fought aga inst de Villiers in the latter.
Everything tells of their experience
"
New ball De nia by Be I can Hu effective
Kohli said about the suitability of Bhuvneshwar, "now they fit perfectlypalm which is good for our team. I am very sure that with the new ball he can prove to be very useful for us in these matches.. If the wicket helps the fast bowlers a littlepalm So Bhuvneshwar knows how to take advantage of that. so as I said before this t20 His experience in the World Cup will be very valuable for us."
tell mepalm Teo20 India begins their campaign in the World Cup 24 From the great match against Pakistan in October. This is the last outing of captain Virat Kohli as captain.20 world cup is. Virat after this world championship20 I have announced the resignation of Team India..
This Also Read
T20 World Cup 2021: From today there will be an international moderation in cricket T20, two matches will be played in the Qualifying Round
Virender Sehwag said this about MS Dhoni, Mahi fans will be happy
Tamil Nadu State senior athletics meet | Sathish and Kanimozhi hog the limelight
M. Sathish Kumar of Genesis Sports Foundation, Coimbatore, and C. Kanimozhi (Southern Railway) created new meet records in the men's 5000m and women's 100m hurdles events respectively on the penultimate day of the Tamil Nadu State senior athletics meet held here on Saturday.
The results:
Men: 5000m: M. Sathish Kumar (Genesis SF) 14:45.30s (NMR) (OR: G. Lakshmanan, St. Joseph's, 14:52.24, 2011), 2. K. Mari Sarath (Prime SA) 15:12.20, 3. C. Manikandan (TN Police) 15:12.50; triple jump: 1. V. Arul Raj 10.84m, 2. A. Tamilselvan 7.57; 110m hurdles: 1. G. Nishanth Raja (Olympic Gold Foundation) 14.46s, 2. Veeraraghavendran (S. Rly) 14.88, 3. R. Sanjay (Erode) 15.14.
Long jump: 1. Elakiadasan (S. Rly) 7.79m, 2. M. Vishnu (Prime SA) 7.59, 3. M. Sandeep Vinsto (Elshaddai Sports GA) 7.50; high jump: 1. D. Deva Karthick (Nellai) 2.13m, 2. S. Veeramani (TN Police) 2.10, 3. R. Manivannan (TN Police) 2.10.
Decathlon: 1. S. Krishnakumar 2936 points, 2. R. Theivendiran (TN Police) 2661, 3. R. Praveenkumar (S. Rly) 2403.
Women: 5000m: Ranjani (SDAT, Tiruchi) 19:17.70s, 2. Lavanya Rajendran 19:20.90, 3. C. Dhivya (Gobi Arts SA) 19:39.30; javelin throw: 1. Saraswathi (S. Rly) 43.64m, 2. N. Hemamalini (PR SF) 42.13, 3. Rosy Meena (Prime SA) 41.57m.
100m hurdles: 1. C. Kanimozhi (S. Rly) 13.74 (NMR) (OR: G. Gayathri, St. Joseph's, 13.88, 2015), 2. Nandhini (Achievers AA, Cbe) 13.81, 3. Keerthana (S. Rly) 14.17.
Shot put: 1. V. Nandhini (Royal AC) 12.93m, 2. K. Rubasri 12.82, 3. Saraswathi (S. Rly) 12.39.