Paul McCartney reveals who really broke up the Beatles
Now, more than half a century later, McCartney has revealed it was, in fact, John Lennon who instigated the split.
In an upcoming interview on
BBC Radio 4
, he told journalist John Wilson: "John walked into the room one day and said, 'I'm leaving the Beatles.' And he said, 'It's quite thrilling. It's rather like a divorce.' And then we were left to pick up the pieces," McCartney said in a preview that aired on the station's
Today
program Monday.
While Wilson highlighted that McCartney was the one to sue his bandmates to end the business partnership, he also said being blamed for the band's breakup had "frustrated McCartney for half a century."
McCartney said Lennon's decision to leave the band was driven by his pursuit of social justice, including movements such as "bagism," where he and his wife, Yoko Ono, wore bags to urge people not to judge others based on their appearance.
Lennon and Ono also held "bed-ins" for peace in Amsterdam and Montreal in 1969, whereby they lay in bed in hotel rooms for a week in protest against conflict, particularly the Vietnam War.
"The point of it really was that John was making a new life with Yoko and he wanted to go in a bag, and he wanted to lie in bed for a week in Amsterdam, for peace," McCartney said. "You couldn't argue with that."
McCartney described the breakup as the "most difficult period of my life" and said he could have imagined the Beatles continuing for longer if Lennon had not instigated the split.
"The Beatles were breaking up and this was my band, this was my job, this was my life," he said. "I wanted it to continue, I thought we were doing some pretty good stuff — you know, 'Abbey Road,' 'Let It Be,' not bad."
McCartney will release a book of commentaries on his song lyrics next month, edited by Irish poet Paul Muldoon, and including songs written for the Beatles.
He also told Wilson he and Lennon had written a four-page play in the "kitchen sink" genre before they started the Beatles.
The full interview will be broadcast on October 23.
Labor flexes its muscle as leverage tips from employers to workers
The overwhelming majority of strikers and potential strikers are doing so for the first time in their careers. Many say they are driven not just by wages or benefits. They say they are striking, or planning to strike, in a bid to do their jobs the way they believe they should be done, and to gain basic improvements in the quality of their lives, such as time with their families, which they say they deserve.
One of the main issues running through many of these strikes, or looming strikes, is workers' anger.
"My nurses and health care professionals are angry," said Elizabeth Hawkins, the negotiator for a union of 32,000 nurses which could soon be striking 14 hospitals and hundreds of clinics in Southern California and Hawaii run by health care giant Kaiser Permanente.
Airline employees work under a different labor law than most workers, one which limits their freedom to strike. So pilots will not be striking, but will instead protest work and scheduling conditions.
Nonunion workers also hit the bricks
It is not just union members walking out.
A record 4.3 million workers quit their jobs in August, the overwhelming majority of whom are not members of a union. While many of them left their previous job for a new one, nearly 800,000 jobseekers in September were unemployed because they quit their previous job without a new one lined up.
"Strikes are only one measure of unrest. It's also a general sense of frustration," said Todd Vachon, an assistant professor and director of labor education at Rutgers University.
The lowest monthly reading on record of workers quitting in this century occurred in August 2009, just after the end of the Great Recession, when 1.6 million workers quit.
But the current level is significantly above the norm. The 4.3 million who left their jobs in August was a 19% jump, or about 700,000 more people, than during the same month in 2019 ahead of the pandemic, and nearly 60% above the average since the government started tracking job quitters in 2000.
Reich said the pandemic may have done more than shake up the supply and demand for labor in the US jobs market. It may have caused a reevaluation of the very nature and quality of work.
A similar thing happened after World War I and World War II, when workers made real gains because of the disruption caused by nation-changing events, Reich said.
"It may have taken a pandemic to open people's eyes," he said. "Many people are frazzled. A lot of workers are saying, 'I've had it!' They're fed up and don't want to take it anymore."
More leverage for strikers than in the past
Strikers have always been at a disadvantage. Strike benefits from unions pay only a fraction of lost wages, and it is never certain strikers will win back better pay or benefits than those they lost while on the picket line.
In the past, there was always a risk employers would hire replacement workers to take the jobs of those on strike, or even shut down their operations entirely.
Many labor historians believe a significant turning point in US labor-management relations, one which weakened union power for decades, was when President Ronald Reagan fired air traffic controllers and hired replacements when their union, the Professional Air Traffic Controllers Organization, or PATCO, went on strike in 1981.
Today, 40 years later, employers are having trouble finding workers to fill their normal job needs, let alone find workers to take strikers' jobs.
"Labor fell into tough times following PATCO," said Alexander Colvin, dean of Cornell University's School of Industrial and Labor Relations. "The inability of employers to find replacement workers in this market does shift the power back to labor."
Replacement jobs, not replacement workers
Instead of strikers worrying about replacement workers, now management has to worry the strikers might find replacement jobs.
"There's jobs everywhere, many offering hiring bonuses," said Trevor Bidelman, president of the local union in Battle Creek, Michigan, which went on strike against Kellogg earlier this month. "If necessary, we can go out and get a job to supplement [our] income and stay out longer."
Nurses preparing for a strike at Kaiser Permanente say they are ready to do the same.
"Nurses are in great demand right now. If we go on strike, I don't feel bad about [working elsewhere] to support my family," said Liz Marlow, a registered nurse in the emergency department at the Kaiser hospital in Fontana, California.
She's been on disability leave, recovering from the effects of Covid, but she expected to return to work by Nov. 1. Now she could be on strike instead, a scenario she never imagined, but she sees no choice but to force management to fill nursing openings and giving nurses the help they need to serve patients.
"What we're asking for first and foremost is patient safety," she said. "It truly isn't about money. The most important thing is the investment and supporting the front-line staff in order for us to our jobs the way they should be done. It [the staffing shortages] causes fatigue, it causes mental strain, a lot of challenging factors."
The frustration with employers not doing enough to get workers the help they need is another common theme.
Bidelman, whose union is striking against Kellogg, said his members are upset with working seven days a week, and rarely get time off for family events, even on weekends. "When people retire, the company doesn't replace them," he said. "They treat us like a commodity in there."
Past agreements no longer acceptable
Now that Kellogg is doing well, with an operating profit for the first half of this year up 9% from the same period in 2019, concessions the union previously agreed to — such as lower pay and benefits for new hires — are no longer acceptable to the membership, he said.
"What this boils down to is that [in past negotiations] everybody had been willing to compromise to avoid a fight," Bidelman said. "They've been bullying us at the table for some time. Now our members are angry, angry at the total disrespect they're continuing to show us. We're digging our feet in."
The same dynamic can be seen in the John Deere strike. The maker of farm and construction equipment has been enjoying record profits and has a strong order book ahead. And it has been hiring, adding about 1,000 union members since last October, bringing union membership there to more than 10,000.
The negotiating team of the United Auto Workers union reached a tentative contract with the Deere two weeks ago, which included immediate pay raises of between 5% and 6% and improvements in pensions and benefits. But it was not enough to satisfy rank and file membership, who also were upset about the continuation of two different kinds of pension plans. The strike started Thursday at 11 Midwest factories and 3 distribution centers after 90% of the membership voted no on the proposed deal.
"What was on the table wasn't a horrible package. But the rank-and-file saw this as an opportunity to demand more," said Rutgers University's Vachon. "Manufacturing in this country has been in decline for decades. Employees have worried about automation, jobs moving overseas. It's meant rounds after rounds of concessionary bargaining and givebacks. The Deere workers said, 'Not this time. They're making hands-over-fist profits. We want more.'"
"I think workers do feel newfound leverage in this moment, especially coming out of the pandemic where they were deemed essential, rather than considered expendable," said Tim Schlittner, communications director for the AFL-CIO. "They're making the decision they will no longer settle for less."
Rising number of strikes
The Bureau of Labor Statistics shows only a dozen strikes through September this year, fewer than in the same period of 2019 ahead of the pandemic. But the BLS counts only strikes with 1,000 or more strikers. Many strikes involve hundreds, not thousands of workers, sometimes even less than 100.
Cornell University, however, tracks strikes of all sizes, and its stats show 181 strikes so far this year, with 38 strikes just in the first two weeks of October, more than any other full month so far this year. Those most recent strikes, 22 of which started this month, involve 24,000 workers in total, prompting the AFL-CIO to dub this month Striketober.
"No one likes to go on strike. Let's be clear," Liz Shuler, the new president of the AFL-CIO, the federation of most of the nation's major unions, told CNN on Thursday.
Strikes occur only when "we are pushed to a limit where basic fairness and equity are violated. You can't just continue to see wages go down, health care benefits taken away, retirement security disappear without saying enough is enough. And that's where we are, we're at a breaking point."
Much of the harder line by labor is coming, as in the Deere strike, more from the rank-and-file than from union leadership, said Cornell University's Colvin. "There's definitely some more labor militancy in the air," he said. "There's higher expectations, and there's a willingness to not settle for what happened in the past."
Obstacles remain for unions
But it's still too early to say what the long-term effect of this new attitude will be, or whether there is a more permanent shift in favor of organized labor.
A recent Gallup poll showed 68% of respondents have a positive view of unions; the best reading for the question since 1965, and up from only 48% in 2009. Younger workers are even bigger backers of unions, with 77% of those 34 and younger having a positive view.
But union membership nationwide is down to only 6% of workers at businesses, limiting their clout in most industries.
Even so, "the current situation is a recipe for long-lasting change," said Vachon, the Rutgers professor. "I can't predict that will happen, but the pieces are there for that to be a reality."
Kerala: Rivers in spate in many districts, 6 killed in Kottayam, 4 missing, 11 teams of NDRF being sent from Delhi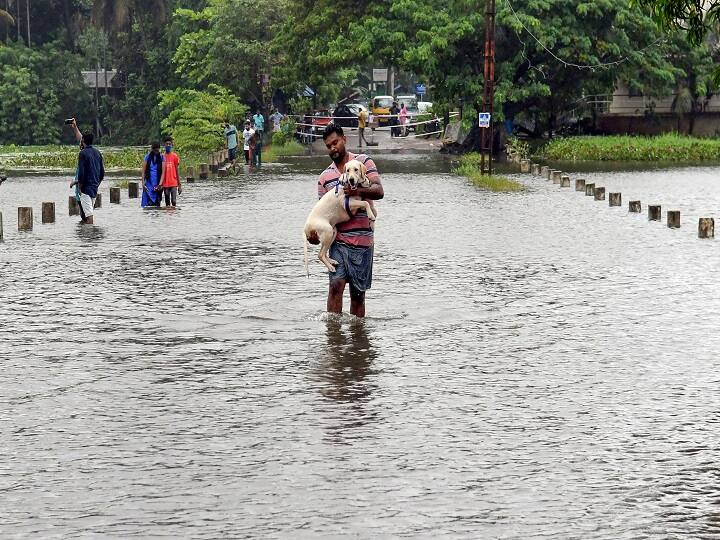 New Delhi: Rivers are in spate due to incessant rains in the southern state of Kerala. The situation is getting uncontrollable due to landslides in many places. According to the information received so far, 6 bodies have been found in Kottayam while 4 are still missing. The devastation rained from the sky in Kerala has left many homeless. The low pressure area in the Arabian Sea has reached the Kerala coast, causing heavy rains in South and Central Kerala. Rivers, canals are in spate in Trivandrum, Kollam, Padmatitta, Kottayam, Idukki due to rain.
Red alert issued in five districts
Red and orange alert has been sounded in many areas due to heavy rains in Kerala. The officials of the Meteorological Department have issued a red alert in view of the possibility of heavy rains in five districts of the state. According to the Meteorological Department, a red alert has been issued in Padanamatitta, Ernakulam, Kottayam, Idukki, Thrissur. This red alert has been issued for the next two days. At the same time, an orange alert has also been issued in some areas regarding rain. These districts are Trivandrum, Kollam, Alappula, Palakkad, Malappuram, Kollikode and Wayanad with an orange alert.
Army was deployed for relief.
Amidst such a dreadful situation of floods, an alert of heavy rain has been issued on Sunday and Monday as well. The situation is such that teams of Army and NDRF have been deployed for rescue and rescue in the state. One contingent of the Army is stationed in Kottayam, while another contingent has been deployed in Trivandrum. 7 teams of NDRF have also been deployed in relief-rescue. The Air Force has been asked to be ready for the time being. Mi 17 and Sarang helicopters are on standby.
The situation in 2018 and 2019, CM gave instructions to the officers
A similar situation has arisen in the hilly areas of Kottayam, Idukki and Pathanamthitta districts in the year 2018 and 2019 occurred during the devastating floods of. The floods in 2018 had caused some such devastation. In which more than 450 people lost their lives. In view of the current situation, CM Vijayan has stressed on the relief and rescue arrangements by holding a meeting with the top officials.
Jammu Kashmir News: Late separatist leader Syed Ali Shah Geelani's grandson sacked from government service
Countries in Asia are placing orders for a new drug to treat coronavirus. Poorer nations could miss out again
Experts say while the pill looks promising, they worry some people will use it as an alternative to vaccines, which still offer the best protection.
And they caution that Asia's race to stock up on the pill could see a repeat of the vaccine grab last year, when wealthier countries were accused of hoarding doses as lower-income countries missed out.
"(Molnupiravir) really does have the potential — the potential — to change the game a bit," said Rachel Cohen, the North American executive director at non-profit Drugs for Neglected Diseases Initiative.
"We need to make sure that we don't repeat history — that we don't fall into the same patterns or repeat the same mistakes that we saw for Covid vaccines."
What is molnupiravir?
Molnupiravir is seen as a positive step because it offers a way to treat Covid-19 — without patients needing to be in hospital.
The pill works like this: Once a patient is diagnosed with Covid-19, they can start a course of molnupiravir. That involves four 200-milligram capsules, twice a day, for five days — a total of 40 pills.
Unlike vaccines, which prompt an immune response, molnupiravir disrupts replication of the virus, said Sanjaya Senanayake, an infectious diseases physician and associate professor of medicine at Australian National University Medical School. "In a sense, it makes the virus produce unhealthy babies," he said.
Interim Phase 3 results from a trial of more than 700 unvaccinated patients released
earlier this month
showed the pill might reduce the risk of hospitalization or death by approximately 50%, compared to patients who took a placebo. The participants were all given the pill or placebo within five days of symptom onset — and within 29 days, none of those who took the pill died, compared with eight who were given the placebo. Full data from the molnupiravir trial has not yet been released, and the data has not yet been peer-reviewed or published.
Wendy Holman, chief executive officer of Ridgeback Biotherapeutics, which is collaborating on the development,
said in a statement
the results were encouraging — and she hoped the drug could make a "profound impact in controlling the pandemic."
"Antiviral treatments that can be taken at home to keep people with Covid-19 out of the hospital are critically needed," she said.
Experts agree the drug is promising. Rather than patients waiting to see if they get seriously ill, the virus could potentially be treated straight after they are diagnosed, said Cohen, from the Drugs for Neglected Diseases Initiative.
And unlike other Covid-19 treatments, molnupiravir can be taken at home, freeing up hospital resources for more seriously ill patients.
"Getting a tablet is so much simpler," Senanayake said. "This is a game changer."
What the Covid pill means for vaccines
Vaccines are still the best protection, say experts — after all, they can reduce the risk of a person getting Covid-19 at all.
But even in Asia-Pacific, where vaccine rates in many countries have improved after a slow start, millions of people are still not inoculated either because they don't qualify, or they can't access shots.
And that's where the pill comes in.
"There are lots of people that cannot get vaccinated," said Nial Wheate, an associate professor at the University of Sydney's School of Pharmacy. "This drug will be a frontline solution for those people that end up getting sick."
But Wheate and other experts are concerned the pill may make it harder to convince some people to get vaccinated, compounding the vaccine hesitancy seen in a number of countries, including Australia.
Research shows people prefer to swallow medicines rather than be injected, Wheate said.
"If you'd said to me a year and a half ago that people will refuse a vaccine for a disease that's wiping out the planet, I would have thought you're crazy," he said. "There is always scope for people to think that this drug will be a much better solution than getting vaccinated."
But experts say the pill isn't a replacement for vaccines.
Senanayake says the approach is similar to how we treat the flu — there's a flu vaccine, but there are also antiviral medicines to treat those who become ill.
Cohen says the pill doesn't mean there's less urgency in scaling up equitable access to vaccines.
"Vaccine equity is sort of the defining challenge of our time. But you never fight an infectious disease with just one set of tools," she said. "We really need the full arsenal of health technologies."
Why Asia-Pacific countries are buying the Covid pill
According to Airfinity data, 10 countries or territories are in negotiations or have signed deals for the pill — and eight of them are in Asia-Pacific.
Some of those countries may be trying to avoid mistakes of the past when slow orders led to delayed vaccine rollouts.
"I think we just want to make sure that we're ahead of the game when it comes to these other new developments," Senanayake said.
"There's a few middle-income countries in there that I think are just trying not to fall into the same trap that they were left in when high-income countries hoarded all the vaccines," added Cohen.
It's not clear how much each of these countries will pay for the pills.
The United States agreed to pay
$1.2 billion
for 1.7 million courses if the pill is approved,
meaning the government is paying about $700 per course. An analysis by researchers Melissa Barber and Dzintars Gotham found that it costs about
$18
to produce a course of molnupiravir based on a calculation of the cost of raw materials.
Gotham, who researches access to medicines, said it was common for pharmaceutical companies to impose a large markup on drugs, but said he was surprised to see that high a price since
US funding
contributed to the pill's development.
Merck did not confirm whether those estimates were accurate, although in a statement to CNN, the company said the calculations don't take into account research and development.
"We have not yet established a price for molnupiravir because it has not been approved for use," the company said. "We have an advance purchase agreement with the US government and that price is specific to a substantial volume of molnupiravir and does not represent a list price for the US or any other country."
In a statement in June, Merck
said
it planned to use a tiered pricing approach for different countries, and had also entered into licensing agreements with generic manufacturers to accelerate availability of the pill in 104 low- and middle-income countries.
A lack of equality
Lower-income countries may be at a disadvantage when it comes to using the pill.
Once the drug is approved for use, countries will need to decide whether to give it to anyone who shows symptoms, or to require a positive test before they can get it.
But that requires access to testing. And in some countries that could be an issue, said Cohen. The interim results on the pill are for people who were given it within five days of symptom onset — and in some countries, getting a test that quickly could be a problem.
Non-profit Doctors Without Borders
hailed
the drug as "potentially lifesaving care" for people living in areas where many are unvaccinated and vulnerable to the disease.
First, though, is the question of how they can access it.
While the drug would be simple to produce, according to Leena Menghaney, the South Asia head for the group's access campaign, Merck controls the patent and is able to decide which countries to supply the drug to and at what price.
She renewed calls for a patent waiver that would waive intellectual property rights so that countries all over the world can produce versions of the medicine — potentially saving many more lives. Earlier in the pandemic, activists pushed for a waiver for Covid-19 vaccines, but the request was blocked by a small number of governments, including the
United Kingdom
.
Cohen said health tools and technologies should be treated as a public good — and that the situation raised questions about how we can make sure those benefits are shared equitably.
"We are concerned that that could potentially lead to a kind of therapeutic nationalism," she said. "What we're most concerned about, though, is that equitable access to antivirals may be particularly challenging in low- and middle-income countries."
Senanayake said once again there was a risk of richer countries getting more than their fair share.
"With Covid, you have to be selfless to be selfish," he said. "Otherwise, if you protect your own little cocoon, your own little country, if it occurs in other countries, then a new variant can emerge that can escape the vaccine."