FBI sting operation nets couple accused of trying to sell US nuclear secrets
US Navy nuclear engineer Jonathan Toebbe, who held a top-secret security clearance, and his wife Diana were arrested Saturday in West Virginia by the FBI and Naval Criminal Investigative Service after the couple allegedly sold information concerning the design of nuclear-powered US warships "to a person they believed was a representative of a foreign power but was actually an undercover FBI agent," according to a Department of Justice statement.
The Justice Department said Toebbe had access to information on naval nuclear propulsion and sensitive military design elements including "operating parameters and performance characteristics of the reactors for nuclear powered warships."
An FBI agent in a criminal complaint justifying the arrest alleges Toebbe first sent a package to a foreign government in April 2020 offering to sell the nuclear secrets, and an undercover FBI agent responded several months later via an encrypted email program and corresponded with him. The agent worked on gaining Toebbe's trust before he allegedly agreed to sell the information for thousands of dollars in cryptocurrency, according to the complaint.
According to the complaint, the FBI "conducted an operation in the Washington, D.C. area that involved placing a signal at a location associated with (the foreign government) in an attempted effort to gain bona fides with 'ALICE,'" the name Toebbe used as an alias when penning emails.
During what Toebbe believed to be a "dead drop," or a hiding spot spies use to secretly pass information, the FBI said it arrested Jonathan and Diana on Saturday after Jonathan "placed yet another SD card" with classified information at a pre-arranged location in West Virginia. The couple has been charged with violations of the Atomic Energy Act, which prohibits anyone with access to classified information from sharing that information. The complaint claims the Toebbes attempted to "communicate, transmit, and disclose the same to another person with the intent to injure the United States and to secure an advantage to a foreign nation."
It is unclear whether the couple has retained legal counsel yet.
Building trust
In one trust-building move during the lengthy correspondence, the FBI arranged to deliver a signal to Toebbe from a building that houses the unnamed country's diplomats.
After gaining Toebbe's trust, the agent tried to convince Toebbe to meet in person, but Toebbe was worried about being caught. The agent suggested using a dead drop at a location of his choosing. In March 2021, Toebbe allegedly wrote, "I am concerned that using a dead drop location your friend prepares makes me very vulnerable. If other interested parties are observing the location, I will be unable to detect them."
Toebbe also said he was worried about receiving cash payments, because serial numbers can be traced, and he worried "tracking devices and other nasty surprises must be considered as well," according to the FBI's criminal complaint.
In April 2021, Toebbe allegedly wrote, "Is there some physical signal you can make that proves your identity to me? I could plan to visit Washington D.C. over the Memorial Day weekend. I would just be another tourist in the crowd. Perhaps you could fly a signal flag on your roof? Something easily observable from the street, but nothing to arouse an adversaries (sic) suspicion?"
The undercover agent replied, "We will set a signal from our main building observable from the street. It will bring you comfort with signal on display from area inside our property that we control and not a [sic] adversary. If you agree please acknowledge."
Toebbe instead allegedly suggested using the decentralized cryptocurrency Monero because it "gives both us excellent deniability." In an email cited in the complaisnt, Toebbe allegedly said he would deliver an SD card, containing several hundred pages of technical data. Once he confirmed receipt of the cryptocurrency, Toebbe allegedly wrote, "I will give you the passphrase."
Toebbe also allegedly told the agent he would never use "the same drop location twice. I will give you a new Monero address each time. The decryption key will be different each time. No patterns for third parties to observe. The only electronic footprints will be Proton to Proton, so there is less risk of encrypted traffic being collected for future analysis by third parties. That part is not perfect. Perhaps as our friendship develops we will change addresses periodically?"
In June 2021, Toebbe and his wife traveled to West Virginia where the FBI said Toebbe "placed an SD card concealed within half a peanut butter sandwich at a pre-arranged 'dead drop' location."
After retrieving the SD card, the undercover agent sent Toebbe a $20,000 cryptocurrency payment and Toebbe responded with the description key for the card, according to the complaint. The FBI said it "opened the provided SD card and provided the contents" to a US Navy subject matter expert, who confirmed it had classified information.
An ongoing correspondence
The FBI said Toebbe allegedly carried on the relationship with the undercover agent, making another dead drop in eastern Virginia in August 2021, where the FBI had him under surveillance as he left his house in Annapolis, Maryland, and drove to the dead drop.
The complaint said "the FBI observed JONATHAN TOEBBE service a dead drop in eastern Virginia. The FBI observed JONATHAN TOEBBE place an item in the container and remove a written message placed in the container by the FBI."
"The FBI subsequently opened the SD card and provided the contents to the U.S. Navy subject matter expert. The U.S. Navy subject matter expert determined that multiple documents on the SD card contained Restricted Data. Specifically, the U.S. Navy subject matter expert determined that the document contained schematic designs for the Virginia-class submarine. Virginia-class submarines are nuclear-powered cruise missile fast- attack submarines, which incorporate the latest in stealth, intelligence gathering, and weapons systems technology," the criminal complaint alleged.
In another exchange listed in the complaint, Toebbe explained how he obtained all of the classified information, saying, "I was extremely careful to gather the files I possess slowly and naturally in the routine of my job, so nobody would suspect my plan. We received training on warning signs to spot insider threats. We made very sure not to display even a single one. I do not believe any of my former colleagues would suspect me, if there is a future investigation."
He also said, "I have considered the possible need to leave on short notice. Should that ever become necessary, I will be forever grateful for your help extracting me and my family. I surmise the first step would be unannounced travel to a safe third country with plans to meet your colleagues. We have passports and cash set aside for this purpose." He said he hoped such a move would never prove necessary.
Toebbe said he hoped to one day to meet and have drinks with his foreign handler, writing unwittingly to the FBI agent, "Thank you for your partnership as well my friend. One day, when it is safe, perhaps two old friends will have a chance to stumble into each other at a cafe, share a bottle of wine and laugh over stories of their shared exploits. A fine thought, but I agree that our mutual need for security may make that impossible. Whether we meet or no[sic], I will always remember your bravery in serving your country and your commitment to helping me."
Two more soldiers martyred in an encounter in Poonch-Mendhar sector, so far nine soldiers have been martyred in the operation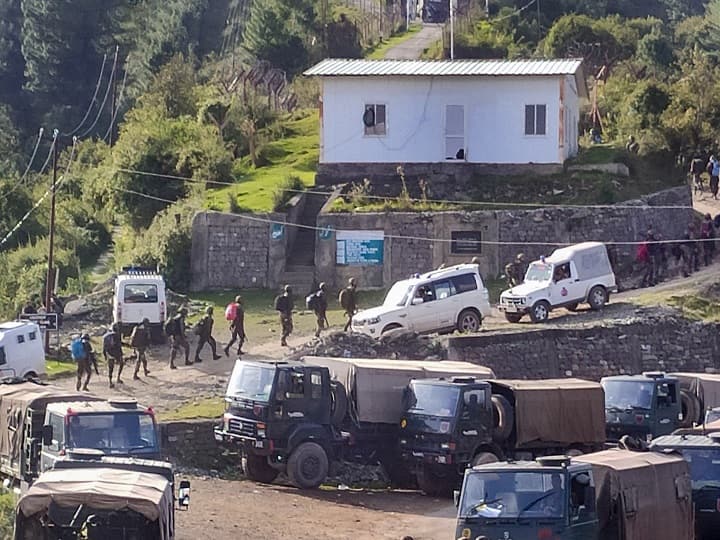 New Delhi: Poonch-Mendhar‌ In the encounter with the terrorists in the sector, two more soldiers have been martyred. The Jammu-based 'White-Knight' (16th) Corps announced the death of both after on Saturday recovered the bodies of the JCO and another soldier, who were missing since the October 14 encounter. Now overall the number of soldiers who got martyrdom in this operation has gone up to 09. According to the spokesman of the Ministry of Defense, the two soldiers whose martyrdom‌ They have been identified as Subedar Ajay Singh and Naik Harendra Singh. Both the soldiers are originally from Uttarakhand.
According to the army,‌ This counter terrorist operation is going on with the same team of terrorists with whom it first took place on 11 October in the forests of Thanamandi area of ​​Poonch. Five soldiers of the Indian Army were martyred in that encounter. Since then, this team is moving the terrorists in the forests of Poonch-Surankote-Rajouri-Mendhar-Balakot. For the search operation of terrorists, Jammu and Kashmir Police including several RR (Rashtriya Rifles) units of the army have been kept on alert.
According to the information, this group of terrorists has entered the Indian border after infiltrating the LoC from Pakistan. Terrorists seem to have got training like Special Forces of Pakistan Army, SSG ie Special Service Group. This terrorist team is exactly like Pakistan's Border Action Team i.e. Bat team. The bat team of Pakistan‌stan consists of both SSG commandos and terrorists.
Read also-
Do you know? In Ramanand Sagar's 'Ramayana', 'Dasaratha' and 'Kaushalya' were also husband and wife in real life
Farrukh Jaffar Demise: Gulabo Sitabo fame Farrukh Jaffar passed away at the age of 89, due to breathing problem
Labor flexes its muscle as leverage tips from employers to workers
The overwhelming majority of strikers and potential strikers are doing so for the first time in their careers. Many say they are driven not just by wages or benefits. They say they are striking, or planning to strike, in a bid to do their jobs the way they believe they should be done, and to gain basic improvements in the quality of their lives, such as time with their families, which they say they deserve.
One of the main issues running through many of these strikes, or looming strikes, is workers' anger.
"My nurses and health care professionals are angry," said Elizabeth Hawkins, the negotiator for a union of 32,000 nurses which could soon be striking 14 hospitals and hundreds of clinics in Southern California and Hawaii run by health care giant Kaiser Permanente.
Airline employees work under a different labor law than most workers, one which limits their freedom to strike. So pilots will not be striking, but will instead protest work and scheduling conditions.
Nonunion workers also hit the bricks
It is not just union members walking out.
A record 4.3 million workers quit their jobs in August, the overwhelming majority of whom are not members of a union. While many of them left their previous job for a new one, nearly 800,000 jobseekers in September were unemployed because they quit their previous job without a new one lined up.
"Strikes are only one measure of unrest. It's also a general sense of frustration," said Todd Vachon, an assistant professor and director of labor education at Rutgers University.
The lowest monthly reading on record of workers quitting in this century occurred in August 2009, just after the end of the Great Recession, when 1.6 million workers quit.
But the current level is significantly above the norm. The 4.3 million who left their jobs in August was a 19% jump, or about 700,000 more people, than during the same month in 2019 ahead of the pandemic, and nearly 60% above the average since the government started tracking job quitters in 2000.
Reich said the pandemic may have done more than shake up the supply and demand for labor in the US jobs market. It may have caused a reevaluation of the very nature and quality of work.
A similar thing happened after World War I and World War II, when workers made real gains because of the disruption caused by nation-changing events, Reich said.
"It may have taken a pandemic to open people's eyes," he said. "Many people are frazzled. A lot of workers are saying, 'I've had it!' They're fed up and don't want to take it anymore."
More leverage for strikers than in the past
Strikers have always been at a disadvantage. Strike benefits from unions pay only a fraction of lost wages, and it is never certain strikers will win back better pay or benefits than those they lost while on the picket line.
In the past, there was always a risk employers would hire replacement workers to take the jobs of those on strike, or even shut down their operations entirely.
Many labor historians believe a significant turning point in US labor-management relations, one which weakened union power for decades, was when President Ronald Reagan fired air traffic controllers and hired replacements when their union, the Professional Air Traffic Controllers Organization, or PATCO, went on strike in 1981.
Today, 40 years later, employers are having trouble finding workers to fill their normal job needs, let alone find workers to take strikers' jobs.
"Labor fell into tough times following PATCO," said Alexander Colvin, dean of Cornell University's School of Industrial and Labor Relations. "The inability of employers to find replacement workers in this market does shift the power back to labor."
Replacement jobs, not replacement workers
Instead of strikers worrying about replacement workers, now management has to worry the strikers might find replacement jobs.
"There's jobs everywhere, many offering hiring bonuses," said Trevor Bidelman, president of the local union in Battle Creek, Michigan, which went on strike against Kellogg earlier this month. "If necessary, we can go out and get a job to supplement [our] income and stay out longer."
Nurses preparing for a strike at Kaiser Permanente say they are ready to do the same.
"Nurses are in great demand right now. If we go on strike, I don't feel bad about [working elsewhere] to support my family," said Liz Marlow, a registered nurse in the emergency department at the Kaiser hospital in Fontana, California.
She's been on disability leave, recovering from the effects of Covid, but she expected to return to work by Nov. 1. Now she could be on strike instead, a scenario she never imagined, but she sees no choice but to force management to fill nursing openings and giving nurses the help they need to serve patients.
"What we're asking for first and foremost is patient safety," she said. "It truly isn't about money. The most important thing is the investment and supporting the front-line staff in order for us to our jobs the way they should be done. It [the staffing shortages] causes fatigue, it causes mental strain, a lot of challenging factors."
The frustration with employers not doing enough to get workers the help they need is another common theme.
Bidelman, whose union is striking against Kellogg, said his members are upset with working seven days a week, and rarely get time off for family events, even on weekends. "When people retire, the company doesn't replace them," he said. "They treat us like a commodity in there."
Past agreements no longer acceptable
Now that Kellogg is doing well, with an operating profit for the first half of this year up 9% from the same period in 2019, concessions the union previously agreed to — such as lower pay and benefits for new hires — are no longer acceptable to the membership, he said.
"What this boils down to is that [in past negotiations] everybody had been willing to compromise to avoid a fight," Bidelman said. "They've been bullying us at the table for some time. Now our members are angry, angry at the total disrespect they're continuing to show us. We're digging our feet in."
The same dynamic can be seen in the John Deere strike. The maker of farm and construction equipment has been enjoying record profits and has a strong order book ahead. And it has been hiring, adding about 1,000 union members since last October, bringing union membership there to more than 10,000.
The negotiating team of the United Auto Workers union reached a tentative contract with the Deere two weeks ago, which included immediate pay raises of between 5% and 6% and improvements in pensions and benefits. But it was not enough to satisfy rank and file membership, who also were upset about the continuation of two different kinds of pension plans. The strike started Thursday at 11 Midwest factories and 3 distribution centers after 90% of the membership voted no on the proposed deal.
"What was on the table wasn't a horrible package. But the rank-and-file saw this as an opportunity to demand more," said Rutgers University's Vachon. "Manufacturing in this country has been in decline for decades. Employees have worried about automation, jobs moving overseas. It's meant rounds after rounds of concessionary bargaining and givebacks. The Deere workers said, 'Not this time. They're making hands-over-fist profits. We want more.'"
"I think workers do feel newfound leverage in this moment, especially coming out of the pandemic where they were deemed essential, rather than considered expendable," said Tim Schlittner, communications director for the AFL-CIO. "They're making the decision they will no longer settle for less."
Rising number of strikes
The Bureau of Labor Statistics shows only a dozen strikes through September this year, fewer than in the same period of 2019 ahead of the pandemic. But the BLS counts only strikes with 1,000 or more strikers. Many strikes involve hundreds, not thousands of workers, sometimes even less than 100.
Cornell University, however, tracks strikes of all sizes, and its stats show 181 strikes so far this year, with 38 strikes just in the first two weeks of October, more than any other full month so far this year. Those most recent strikes, 22 of which started this month, involve 24,000 workers in total, prompting the AFL-CIO to dub this month Striketober.
"No one likes to go on strike. Let's be clear," Liz Shuler, the new president of the AFL-CIO, the federation of most of the nation's major unions, told CNN on Thursday.
Strikes occur only when "we are pushed to a limit where basic fairness and equity are violated. You can't just continue to see wages go down, health care benefits taken away, retirement security disappear without saying enough is enough. And that's where we are, we're at a breaking point."
Much of the harder line by labor is coming, as in the Deere strike, more from the rank-and-file than from union leadership, said Cornell University's Colvin. "There's definitely some more labor militancy in the air," he said. "There's higher expectations, and there's a willingness to not settle for what happened in the past."
Obstacles remain for unions
But it's still too early to say what the long-term effect of this new attitude will be, or whether there is a more permanent shift in favor of organized labor.
A recent Gallup poll showed 68% of respondents have a positive view of unions; the best reading for the question since 1965, and up from only 48% in 2009. Younger workers are even bigger backers of unions, with 77% of those 34 and younger having a positive view.
But union membership nationwide is down to only 6% of workers at businesses, limiting their clout in most industries.
Even so, "the current situation is a recipe for long-lasting change," said Vachon, the Rutgers professor. "I can't predict that will happen, but the pieces are there for that to be a reality."
Kerala: Rivers in spate in many districts, 6 killed in Kottayam, 4 missing, 11 teams of NDRF being sent from Delhi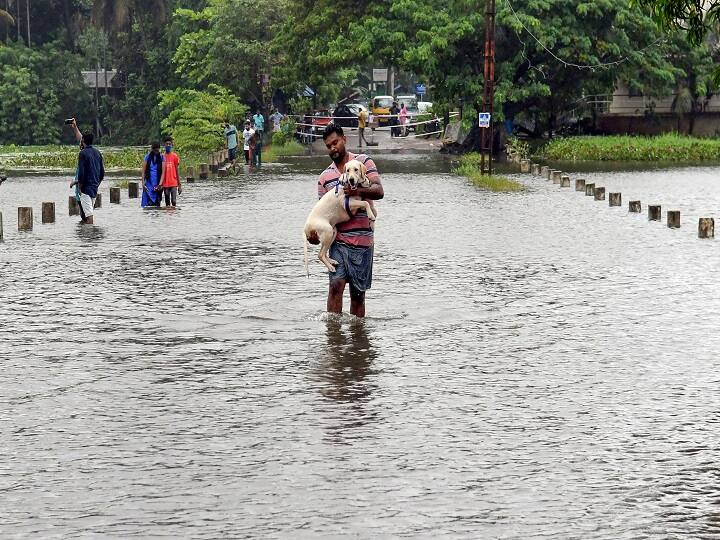 New Delhi: Rivers are in spate due to incessant rains in the southern state of Kerala. The situation is getting uncontrollable due to landslides in many places. According to the information received so far, 6 bodies have been found in Kottayam while 4 are still missing. The devastation rained from the sky in Kerala has left many homeless. The low pressure area in the Arabian Sea has reached the Kerala coast, causing heavy rains in South and Central Kerala. Rivers, canals are in spate in Trivandrum, Kollam, Padmatitta, Kottayam, Idukki due to rain.
Red alert issued in five districts
Red and orange alert has been sounded in many areas due to heavy rains in Kerala. The officials of the Meteorological Department have issued a red alert in view of the possibility of heavy rains in five districts of the state. According to the Meteorological Department, a red alert has been issued in Padanamatitta, Ernakulam, Kottayam, Idukki, Thrissur. This red alert has been issued for the next two days. At the same time, an orange alert has also been issued in some areas regarding rain. These districts are Trivandrum, Kollam, Alappula, Palakkad, Malappuram, Kollikode and Wayanad with an orange alert.
Army was deployed for relief.
Amidst such a dreadful situation of floods, an alert of heavy rain has been issued on Sunday and Monday as well. The situation is such that teams of Army and NDRF have been deployed for rescue and rescue in the state. One contingent of the Army is stationed in Kottayam, while another contingent has been deployed in Trivandrum. 7 teams of NDRF have also been deployed in relief-rescue. The Air Force has been asked to be ready for the time being. Mi 17 and Sarang helicopters are on standby.
The situation in 2018 and 2019, CM gave instructions to the officers
A similar situation has arisen in the hilly areas of Kottayam, Idukki and Pathanamthitta districts in the year 2018 and 2019 occurred during the devastating floods of. The floods in 2018 had caused some such devastation. In which more than 450 people lost their lives. In view of the current situation, CM Vijayan has stressed on the relief and rescue arrangements by holding a meeting with the top officials.
Jammu Kashmir News: Late separatist leader Syed Ali Shah Geelani's grandson sacked from government service